Welcome

Welcome to the Mahou Shoujo Site Wiki!
This wiki is about the Mahou Shoujo Site series that anyone can edit!
11,452 edits made and 458 articles created since January 10th, 2016.
This wiki contains unmarked spoilers. Read at your own risk!
About
Mahou Shoujo Site (魔法少女サイト, Mahō Shōjo Saito?), also known as Magical Girl Site, is a manga series written and illustrated by Kentaro Sato. It is published since July 4, 2013 in the magazine Champion Tap! of the Akita Shoten, and then moved to the magazine Weekly Shōnen Champion from the same printing company in 2017, being compiled in 12 volumes tankōbon till the date.
Mahou Shoujo Site Sept (魔法少女サイト Sept, Mahō Shōjo Saito Sept?), also known as Magical Girl Site Sept, is a manga series written by Kentaro Sato and illustrated by Toshinori Sogabe. It is published in the Champion Tap magazine! of Akita Shoten since October 26, 2017 and will end on August 29, 2018 with a total of 10 chapters published.
Mahou Shoujo Site (Anime) (魔法少女サイト) is an anime series produced by production dóA based on the manga of the same name written and illustrated by Kentaro Sato, the which is a spinoff of Mahou Shoujo of the End. Its premiere will be on April 6, 2018, with the first episode being pre-released on March 18 of the same year during the Magical Festa event.
Content
Characters
Affiliates
Want to affiliate with us?
If you would like to become an affiliated site, please contact an administrator.
Collaborate with this wiki
The optimal visual and social experience on this wiki is available with a FREE personal Wikia account.
There are other editors who can improve what you contribute - don't be afraid to jump in and start it!
The wiki policy and community portal describing the community's projects are a must-read.
If you have trouble getting started and are new to collaborative editing, check the wiki tutorial.
To contribute a Mahou Shoujo Site article, simply enter the article title in the box below:
Featured Video
First trailer, about the Mahou Shoujo Site anime, without the voices of the characters.
Featured Image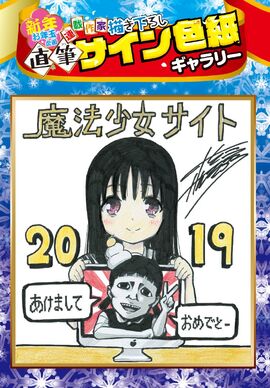 Greeting image for the New Year, by Kentaro Sato.
Activity Recent
Featured Character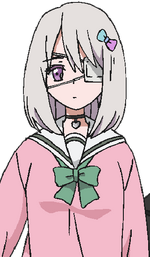 ---
Kosame Amagai (雨谷 小雨, Amagai Kosame?) is a protagonist of Mahou Shoujo Site, is a girl who was diagnosed with a terminal cancer, because this event was chosen to be a magical girl. Her relevance in the story is great because she was the initial link to discover the secrets that were hidden in the Magical Girls Site, as it was also of great importance in the union of magical girls groups to fight against the administrators...
---
Vote here for the featured character, for the cover of next month!
Poll
How would you rate the Mahou Shoujo Site anime?
Twitter
External Links